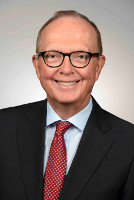 Dr. Friedrich Belle
"A manager can only challenge himself and be challenged every day, if he accepts personal feedback and practices constructive self-criticism. It's my role to show the manager how to take on these new dimensions."
Executives are constantly caught between different and conflicting priorities and interests and have to find their way through as leaders. Coaching, then, primarily involves listening, and examining backgrounds and personal goals as all necessary parts to accompany the client in a successful growth process.
Experience
Friedrich's long standing involvement in banking makes him an ideal candidate for coaching managers and executives in the financial services sector. Following a bank traineeship and a PhD in Economics, Friedrich handled major corporate accounts as director in a prominent bank in southern Germany.
He continued his career as VP in an international consulting firm with branches and staff from across Europe, the UK, and USA. There, he managed both regional and international accounts in a variety of industries.
Later, Friedrich took on several company restructuring projects. Notable examples include his position as CEO of a large Christian hospital operator and the role of General Director at a private Swiss bank. He successfully repositioned the hospital operator within the changing context of the national health system, and respectively, restructured private wealth management and commercial banking at the bank in Geneva.
The 30 years Friedrich spent in strategic and operational management, as well as his advisory capacity, have kept his passion for learning alive. His ongoing participation in advisory boards keeps him abreast of current business trends.
Professional Expertise

Thinking in new dimensions and across boundaries is Friedrich's personal forte. His broad work experience and familiarity with international business give Friedrich a solid set of values from which he meets his clients with empathy and also the ability to take on the role of a provocative challenger, or bold manager. This is at the core of his executive coaching approach.

Friedrich coaches in German.

 

Education, Qualifications & Professional Positions

PhD (economics), University of Hohenheim, Stuttgart

Bank Controller Diploma, Controller Akademie, Gauting


 
Mob.: +49 (0)160 846 40 69
Newsletter