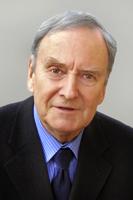 Christoph Epprecht
"Point of impact: From reflex to reflection."
Discover options towards effective outcomes.
Experience
In 1973 Christoph Epprecht started his own business as a management consultant for business policy and strategy. His consulting included assignments for global companies entering emerging Middle East markets following the oil crisis; in Latin America he partnered an agricultural venture and has managed patents and licenses in Europe for a global company in the Far East. He was managing partner of a Swiss consulting group and head of a human resources service company.
Starting from the early nineties Christoph focused on management coaching and facilitating change processes in the profit and non-profit sectors. Christoph combines successful line responsibility on managerial levels with extensive leadership- and a broad life experience.
Commissioned as a lecturer and guest lecturer at Universities of Applied Sciences and Training Institutions in Switzerland, Germany and Estonia he lectures on Leadership, Intercultural Management, Coaching and Entrepreneurship.
Professional Expertise


As an executive coach Christoph is an expert in leadership development, change management, organization development, coaching and mentoring in the context of the corporate curriculum, i.e. the strategy for creating a sustainable competitive edge by building and leveraging strategic competence. His preferred fields are executive coaching for effective leadership practice, advanced executive and management learning in complex environments with regard to top decision-making processes.

Christoph coaches in both German and English.

Education, Qualifications, Professional Positions

Business administration and political economics at the Universities of St. Gall and Zurich; Organization Development, Supervision and Coaching at IES/TRIAS Switzerland. In 2009 he earned a Masters of Science degree at the Faculty of Organization and Management, Sheffield Hallam University, UK, Master thesis: "What is Coaching and Good Practice in Coaching? Practitioners' perspectives. Common features of coaching and indicators of good practice in coaching in European countries."

President Switzerland of the European Mentoring and Coaching Council EMCC, BSO Coaching / Supervision und Organization Development, Switzerland, ICF International Coach Federation, ZGP Zurich, Society of Human Resources.
Mob.: +41 (0)79 414 91 41